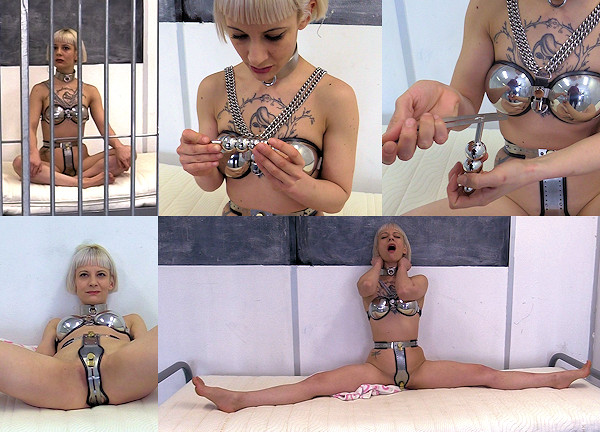 Of course I had to plug Nina Grace! It was too tempting, because she is incredibly sexual and I could see she was getting more and more frustrated during her 4 hour Casting. I locked her in the prison cell in full chastity, and she was getting so turned on by the situation!
When I returned, she asked if it had been 4 hours already. Not even close! I just came back to give her a new front shield (with slots) and a 4-ball plug. Nina was a little confused by this gift at first, but then she understood what it was. I allowed her to take off her belt, being very careful she didn't touch herself, and I explained to her how to change the front shield and install the plug. Nina managed to do all that, and she was instructed to put the belt back on. The plug slid into place, and she felt the belt was even tighter. Most models comment about this, a belt with plugs is a tighter fit!
Obviously, with the big steel plug inside her, and no way to touch her clit or breasts, Nina was getting even more horny. With every move, her plug was moving back and forth. She tried bending over, even splits on the prison bed, but she couldn't get any clitoral stimulation at all. And that's what Nina needs to orgasm. Now she was just stuck with a big plug inside her for the rest of the Casting, and I left her again.
When I came back at the end of the 4 hours, I found her grinding and gyrating against the prison bars, trying everything to get a little sensation. She was almost exploding! I gave her the keys and she took off the belt, revealing a very wet plug! She was immediately trying to touch herself, but I handcuffed her hands high up in the air to the prison, so she still couldn't orgasm! She was moaning and begging!!
What a girl! Nina needs to come back for a longer Deal…. I really doubt she can last 24 hours, I have not often seen such a horny sexual creature!