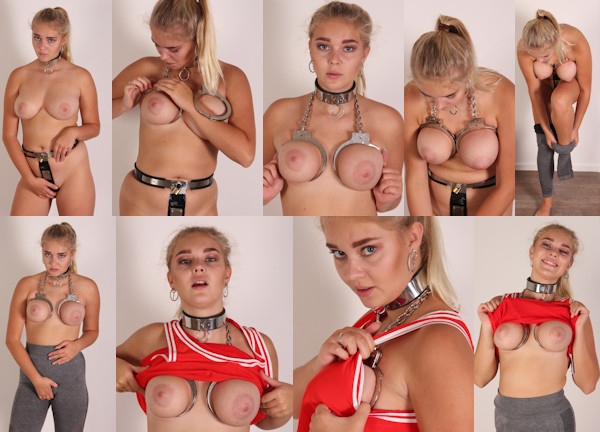 More and more local girls show up to get belted! I can barely keep up! After the gorgeous Sasha, there was an email from 18-year old Denise. She wanted to know if there was an opportunities for her. One look at her pictures and I knew: this girl is perfect! Denise needed to be locked in steel and soon!!
No time was wasted and before she knew it, Denise was in the studio for her Casting. I noticed her perfect huge natural boobs, so I gave her a pair of boob cuffs. There have been a few requests from you to find out if boob cuffs can be worn under clothing, so I told Denise go get dressed after she got belted and collared. She obediently locked her boobs in the cuffs, tightening them so she couldn't get them off without a key. Her boobs now felt so tight and restricted!
Denise is young, submissive, and she has cuffable boobs. I don't think I could have found a more perfect Chastity Babe. She will have a long career in metal in front of her if she decides to go through with it. I immediately offered her a Deal (48 hours in boob cuffs, chastity belt, and collar). She will think about it, but I think Denise will be back to sign the contract. It's very exciting to get local new young talent all the time, especially if they are beautiful and fun like my newest babe Denise!
Please leave a few nice comments to encourage her to come back! I know she will read them!