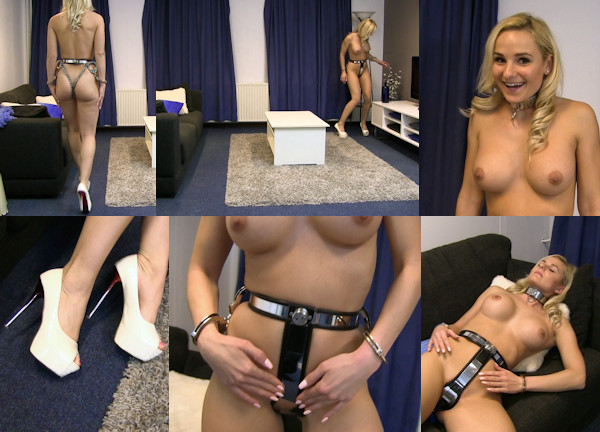 Misha is one of the veteran Chastity Babes, who started her chastity belt modelling career when she signed a Deal with her boyfriend. She has since then appeared on this website with many others, like Bridgette and Cobie. She changed a little in appearance (bigger boobs), but she is still the submissive shy girl she was when she first signed up!
During her most recent Deal, she was locked in a tight NeoSteel belt with rear chains. She was in Holland for a few days, and I did not let her out at all (only during toilet breaks). Misha is so used to being locked up and she is very obedient. To her, it is just part of going to Holland. I love to shoot a few Challenges with her when she is belted. I mean, what else is there to do in a Chastity Deal? It's basically just waiting till it's over, if you can deal with frustration and horniness (which you will have to).
I remember shooting a fun MetalBondage.com update with her. Click here if you haven't seen that yet. It is a fun escape challenge! Some footage of her lounging in her belt has just resurfaced on my hard drive, and I thought I would share it with you. Misha is so hot in her NeoSteel belt! I handcuffed her wrists to her belt and left her alone for a few hours. Misha is used to this, and she will never ever complain. When I came back, she did not even take off her (very) high heels, since I did not explicitly tell her she could. I have no idea who trained her, but she is a really great sub, she would never do anything without permission.
Enjoy this relaxed update with Misha, she is such a darling, with that incredible body locked in steel!