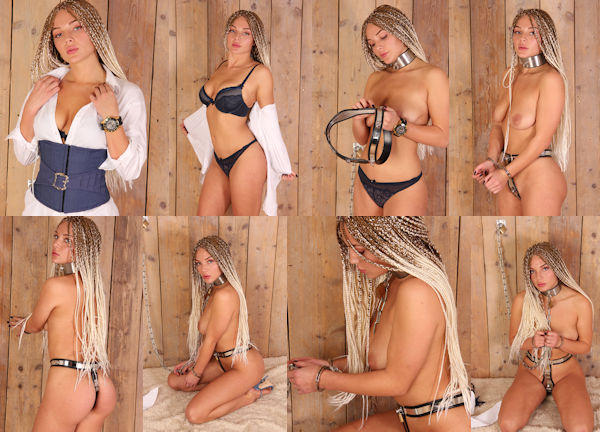 Casting local girls from shops and restaurants is what I like to do most. When I was in Germany, I saw Helena who was working in a clothing store and I just knew she would be a perfect Chastity Babe. She has a perfect figure (one of the best butts ever!) to be locked in a belt.
Of course, it is hard to bring this up in a casual conversation. I asked if she had done any modelling before. She said she hadn't, but I could see she was interested. We talked a bit more until I brought up the actual theme of the Casting shoot. She said she would think about it, which is usually a polite way of saying 'no, go away you pervert'.
A few months later, I received an email from Helena! She had been looking at the website and she wanted to drive over to Holland to come and do a Casting shoot! I was surprised! Of course I invited her over straight away.
She changed her hair by then (into dreads), but she was still as gorgeous as before. We had a great time in the studio, where she was locked in a NeoSteel for a few hours. A German girl in a German belt! I collared her with a big collar and chained her to the wall. Helena seemed fine with everything. A pair of hinged handcuffs intrigued her more than the chastity belt! She took my challenge of trying to escape these cuffs with the keyholes facing away from her fingers. She got really into trying to escape, which gave me plenty of time to film her in the belt!
I hope Helena will come back for more, she is very sweet and a bit shy, but such a stunner in her tight NeoSteel!!