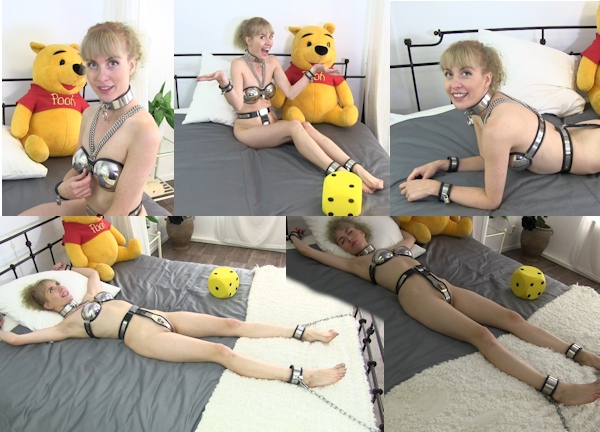 Russian girl Polina did not seem to mind her full chastity outfit at all. As with all Castings, I require girls to be locked for at least a few hours to get used to the gear. There is a nice bedroom where the girls can relax and Polina was still very cheerful and excited about her Casting.
So I decided to make it a Challenge. Polina had to roll a die to determine the number of hours she would have to do the Challenge (without knowing what it was). Unfortunately for me, she rolled a 2. Polina would have to spend 2 hours chained to the bed by her wrists and ankles, and she would be alone. She would not be let out until the two hours has passed. It is a fun test to see if a girl can deal with all the gear and some bondage for a while.
Polina did not really seem to mind. She is hard to read, and there was a bit of a language barrier causing her to say yes to everything. But she seemed enthusiastic about the fact that she would be chained to the bed, so I spread her arms and legs out with chains. There was no way she could escape, let alone touch herself. This is high security chastity! A belt, bra, AND spread eagle bondage are one of the best combinations for preventing masturbation.
Two hours in one position is actually not easy, and the smartest thing to do is trying to get some sleep. Amazingly, Polina had no trouble falling asleep in this position. She only woke up just before I returned to unlock her. What a girl, one of the easiest Chastity Babes ever, and she wants to come back for a Chastity Deal with added Challenges! This will be fun!