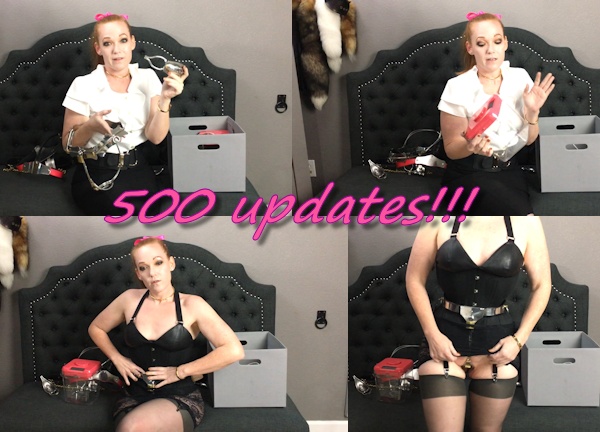 500 updates!! We made it! I'm so proud that this website still exists, and very thankful for your support in all these years (since February 2011)! I could not have done it without you! Joining the site means donating a little towards the ChastityBabes.com worldwide goal and slogan 'all females should be locked in a chastity belt, and there are no excuses'. Thank you for that, we locked so many girls in chastity in 500 updates, it is unbelievable!
Of course I will not stop at 500! I will keep going, there is lots more work to be done! Not all girls are in chastity yet, so we must battle on. It is not easy, but we have to do it. I hope you will be with me for the next 500 updates. It's going to be awesome!
To celebrate, I have invited a very special guest to make her introduction. A real life Chastity Babe, most of you will know her: KittyDenied! She will make exclusive HQ videos for this website, answering all your questions about her chastity lifestyle, and showing girls how to deal with being belted 24/7. Kitty will have tips for keyholders, she will tell you about her routines, and explain everything about the gear she owns.
Kitty has a lot of interesting gear, a lot of unique FancySteel designs for example, but also a lock box with a timer, many plugs and insertables, bondage equipment, corsets and clothing. Being a real life Chasity Babe, she can answer all your questions about the little things she encounters every day, and she can help you (girls) to overcome your doubts. Chastity really is the way to go, and who better to convince and explain this than the one and only KittyDenied. I'm so proud to add her to my list of Chastity Babes! Please welcome her and feel free to ask any questions about her and her lifestyle!