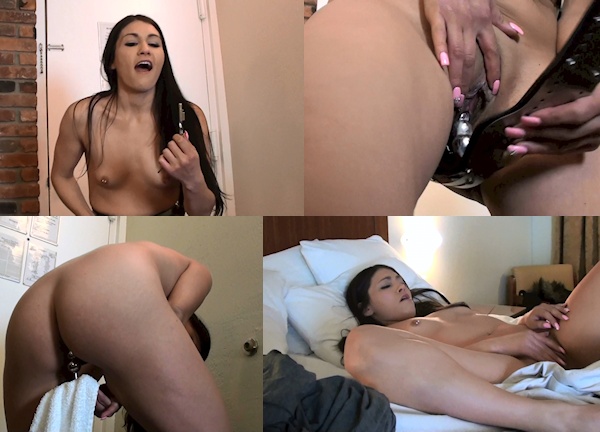 Skipping a few installments of Jade's ordeal (to allow for another important story to start soon), we have arrived at the final episode of her double plugged adventure! Finally, the keys are delivered to her doorstep and she is allowed to take off the belt and get those two 4-ball metal plugs out of her!
Jade is so excited, she is a little uncareful while taking off the belt, causing the anal plug to detach from the belt! This is potentially very dangerous, as the plug does not have a wide base like normal buttplugs. She could easily have lost the entire plug in her ass, and it would be impossible to get out! As it is slipping deeper and deeper, Jade manages to get a towel and get the slippery plug out of her before it's too late. That was close, don't try that at home!
You can see how horny Jade must have been, the vaginal plug is almost white and soaking wet! She tries to be sensible and clean the plugs as soon as possible, but when she can not find any soap, she gives up and goes to do the thing that she has been wanting to do for a long time! She rubs her first orgasm out of her pussy in mere seconds! Then she goes for a few more, because she thinks she really deserved it!
She calls the date that she cancelled and quickly makes a new appointment for the night. This guy will be the luckiest guy on the planet!!!