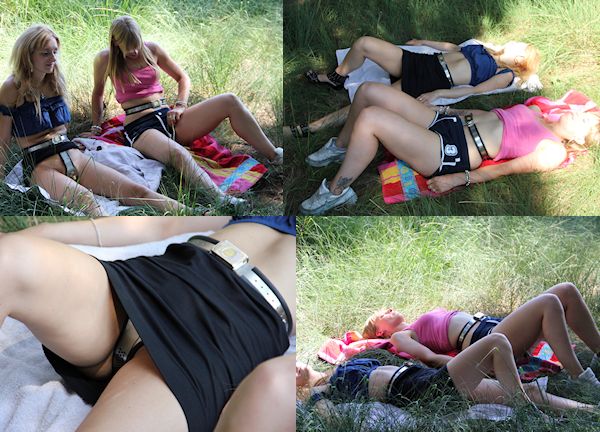 THIS UPDATE WAS SHOT ON DAY 7 OF THIS DEAL
After the uncuffing in the morning of day 7, I really wanted to get the girls out of the house again. One of the things that I need to address in the next contracts is that the girls can simply stay indoors for the duration of the whole Deal and get the money. I know most of you want to see outdoors and public shoots, but the contract doesn't actually oblige them to go outside.
Fortunately, it took little effort to convince them, as the weather was beautiful and the girls really wanted to get some tan before the summer. Out in a big field, they spread out their towels and sat themselves down. It was a gorgeous day, but Silvie and Deborah only wanted to tan their faces, still afraid of strange tan lines and how to explain those after their Deal. They positioned themselves with their bodies in the shade and their faces in the sun. A rather odd sight.
Tired as they were (from almost no sleep in the last 6 nights), they dozed off very quickly in the hot sun. They actually slept for 45 minutes! Bless them, they have been so brave in this Deal, knowing nothing about chastity belts and the issues that arise from wearing them. I let them sleep for a while. Birds singing, bees buzzing, how nice is this!
Dutch dialogue. English subtitles are included in the member download!