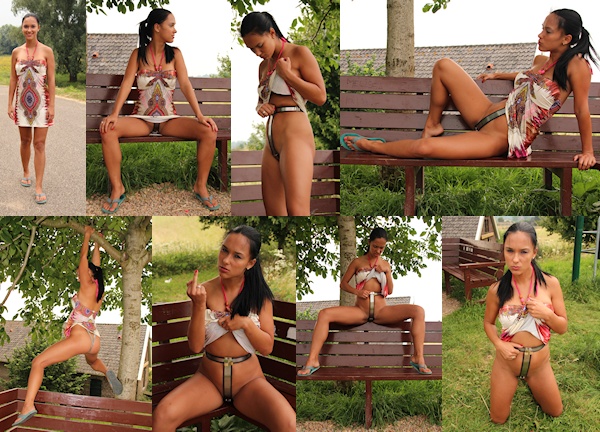 We had a field day (quite literally) with the young Victoria Sweet recently! She was locked in a chain style chastity belt all day, and it looked like she was not so happy about that. But we think she secretly enjoyed it! Look at the way she is giving everyone the finger!
Victoria can not seem to get it into her pretty little head that her girly hands can not break stainless steel. She keeps tugging and pulling, but the belt remains firmly locked onto her, trapping her pussy lips in the secondary shield (members, look closely!). For everyone thinking it is impossible to sit down in a chastity belt: just notice how the belt is not even touching the park bench when Victoria sits down! It is well designed and when a belt is tight enough, the butt is the only part that is touching the seat.
Enjoy these beautiful images of a beautiful energetic girl out and about in her chastity belt. She let us know that she would be interested in a longer deal, but we are sure that is just the money talking. Victoria could never handle a Chastity Deal, she would never get used to being belted!