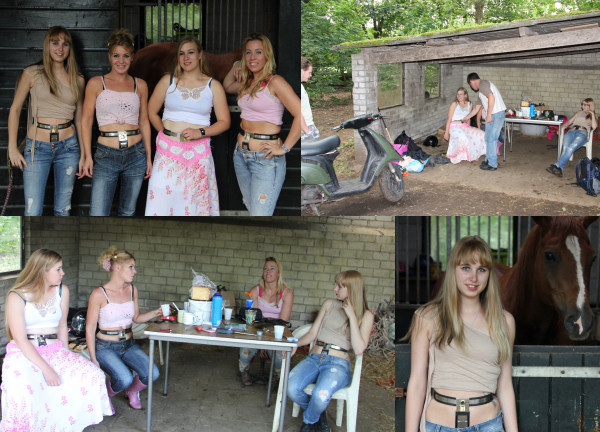 THIS UPDATE IS PART OF THE BELTED FOR CHARITY EVENT
After all the hard work, the girls deserved a break. Drinking coffee and smoking, the girls discuss their day so far. They ask Wendy about riding in the belt, because the other girls will still have to do that in the afternoon. Laura and Natasja are afraid it will hurt, they are the least experienced riders.
Natasja tells the others has a minor spine injury, but today she somehow feels better, and it might be from the belts rigid back support! Wendy comments on the perfect belt fit on Laura, asking her to stand up to get a good view. The 4 girls are well into their event day, and they are determined to make it, all for a good cause!
Boyfriends, grandmothers and other interested people started showing up to the event, although none of them wanted to be on camera (recognisable). Still, I managed to get some snapshots of guys checking out their girls in the belts.
As you can see on the right hand side, Wendy has asked us to implement the donation widget for her cause (saving street dogs), you can also reach her on wendy@mail2turkey.com if you have any questions about her charity! Please be respectful when emailing her!