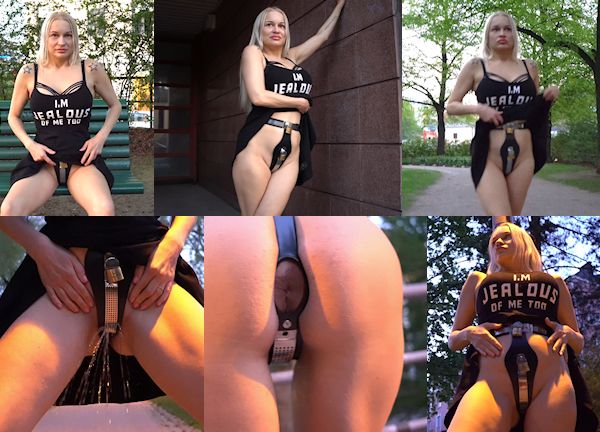 Of course, Dirty Mary is not always kept in her dungeon. That is the beauty of chastity belts: submissives can roam free, they can go to work, fitness, go out with friends, and you always know they won't be up to something naughty.
Can you believe this is already the 8th glimpse we get into Mary's life? Check out all updates here. She is quickly rising on the Chastity Babes page, and I love seeing her home videos from Finland, because she really is a chastity babe! She has her own belt and she is an owned submissive with a very strict keyholder. And that's a good thing, because Mary is incredibly naughty!! She isn't called Dirty Mary for nothing!
All chastity babes need exercise, and Dirty Mary loves to go into the park in the evening (when there are less people) to do some stretching and a little hiking. Of course, she can't resist flashing her tight chastity belt whenever she can, and we once again get to see why it is important to have a custom belt made when you are going to use it for long term chastity. Her Access Denied belt fits so well, it lines up perfectly! You can see why it would be no problem for Mary to use the toilet, because both openings are perfectly positioned.
But Mary wouldn't be Dirty if she didn't do something quite unexpected during her walk! She desperately needed to pee, so she just did – out on the street, in public! Mary pees straight through the perforated secondary shield. You can see she does this every day, it's so easy for her! Peeing through a belt in public is quite exciting, and Mary shows a tiny smile. She knows she has been naughty, but she just walks away as if nothing happened.
Unfortunately for Mary, she is so good that she does not need any toilet breaks like most Chastity Babes. That means she is locked in the belt for very long periods of time, and as you may expect, she gets VERY horny. Her keyholder is very strict and loves to see her get frustrated. Only if she is VERY good, she might get unlocked once in a while. Mary lives the perfect life of a chastity slave girl!