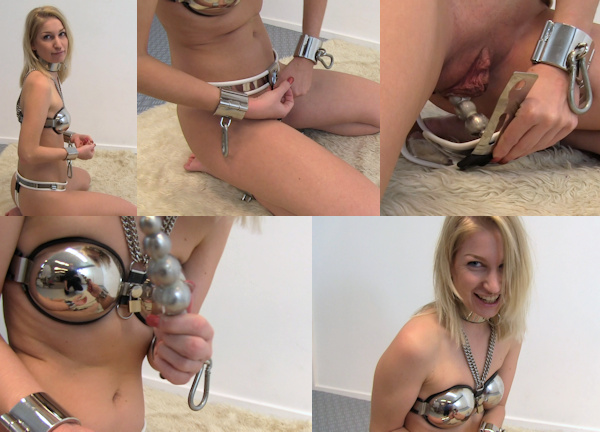 My cute pet girl Arienh had been plugged for so long, it was time to give her a little break. Unfortunately, plugs can not be worn forever. There are a number of reasons for that (hygiene, toilet breaks), but Arienh managed to find one more reason: she gets incredibly wet from wearing plugs. And I literally mean dripping soaking wet.
She leaves a big stain everywhere she sits, poor girl! She can't help that her body loves the large vaginal plug so much. She doesn't want to admit it, but see for yourself: when she takes the plug out it is wetter than any other girl has ever managed. Granted, she had been plugged for a very long time, and she was in bondage (which also makes her wet), but there is no denying it: she was very aroused.
Arienh also said the plug was very warm (hot even). She appreciated the opportunity to clean herself and the plug to get ready for her rebelting and replugging. She did not even want to take out her anal plug. Arienh is so well trained, she would never do anything without permission, and if I don't give her any breaks, she will never ask for them. But I think it is better to keep my pet slave fresh and clean, so here you go: a little plug break for Arienh!