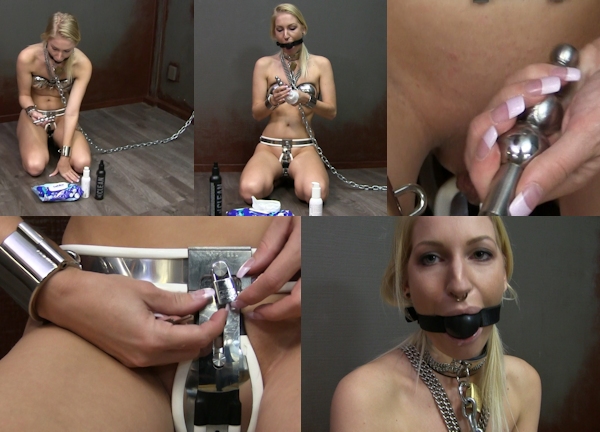 Of course, Arienh had to get plugged. As my new slave, she will have to learn how to deal with being plugged for extended periods of time. Her tiny My-Steel has a vaginal slot on the inner shield to accommodate a metal plug.
Gagged with a big black ballgag, Arienh is chained to the wall, patiently waiting for what is to come. Her ballgag is locked, so she can't take it off herself. She is in full chastity (bra and belt and collar) all the time now. I bring her the plug and some lube and without hesitation or command, Arienh starts to unlock her belt with the keys I handed her. It is like she was born to live as a slave. A true submissive, who came to me and signed the Deal of her life.
I don't think I will ever have any problems with this one. You could even say the chastity belt is not needed. That might sound strange, but I am already quite sure Arienh would not dare to touch herself without asking for permission. Of course, this is ChastityBabes.com and I love girls in chastity so she will stay locked 24/7. But still, it is a nice though that she will be chaste at all times. It is even more relaxed during the super short toilet breaks she gets!
Enjoy this video of this awesome slave girl obediently plugging her belt and then locking it back on! Arienh is amazing!