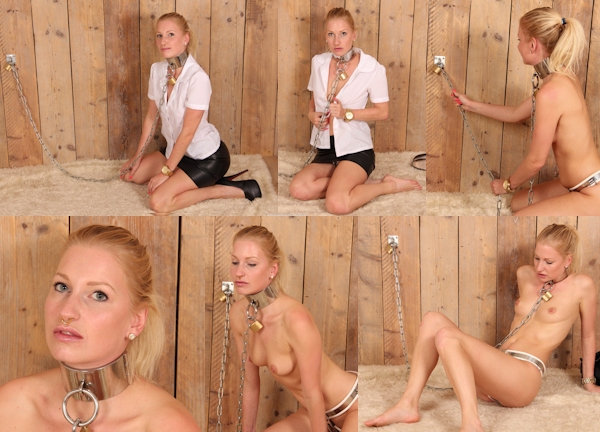 One of the most important things for my new slave to learn is to deal with long term bondage. Modern girls are not used to waiting for more than 2 minutes, always on their phones, always checking what is happening. Arienh needs to learn patience. She can not have everything she wants anymore, some things are completely forbidden (like masturbation) and some things (like her phone) she can only have at my discretion, when she has been a really good girl.
Arienh is a natural submissive, she can enter a state of mind where she is completely relaxed and will wait for commands. She will do as she is told and that is great! As the resident ChastityBabes.com slave, she will have to do many assigments, tasks, challenges, meet&greets (let me know if you want to meet her!), and she will have to endure a lot of waiting and bondage.
To get her used to her new role, she will be chained by her collar most of the week. And it is a heavy collar! Arienh clearly needs to get used to it, but she will manage. It's nice to see how she removes her clothes without me telling her to, so she is completely naked and chained to the wall.
Arienh is the most promising resident slave I have ever had, she is getting settled in nicely. We are ready to receive your member requests for her! Email webmaster@chastitybabes.com to let me know what you would like to see Arienh do, or if you would like to meet her! Let's challenge her, she loves it!!