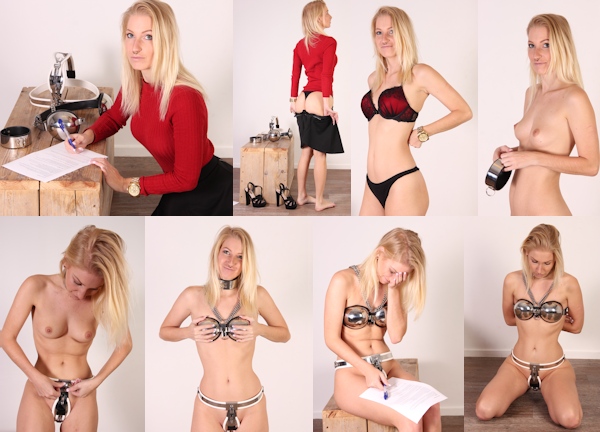 Yes, I finally have a new slave again! Great news: Arienh signed her contract! She will be in training as my new slave from now on. After losing Davon Kim to the immigration law enforcers, I really missed having a slave girl around. Nothing is more beautiful than a true submissive in a belt and collar, ready for training whenever I want.
It only took one Casting for Arienh to decide. This is what she needs. She needs a belt, she needs a collar, and she needs a lot of training. Bondage, plugs, vibrators, gags, clamps, she wants to learn about it all. Arienh wants to live a submissive lifestyle, she wants to sleep in a cage, and be told what to do and what to eat. She does not want to decide things. Someone should hold the keys to her belt and restraints, so she can be free in her mind!
It is hard to understand why some girls want this lifestyle, but there are plenty of them! It helps them focus, find a purpose in their life. They want to serve and submit. Arienh came to me because she loves chastity belts. But there is a lot more she loves, and she is ready to explore! Let me know if you want to help with her training: you can give her tasks or think of evil challenges. Arienh will do as I tell her, her contract does not state any limits.
She is giving up her normal life by signing the contract. She locks herself in her collar, belt and bra, and she is ready for her new life as the ChastityBabes.com resident slave girl!! So beautiful!