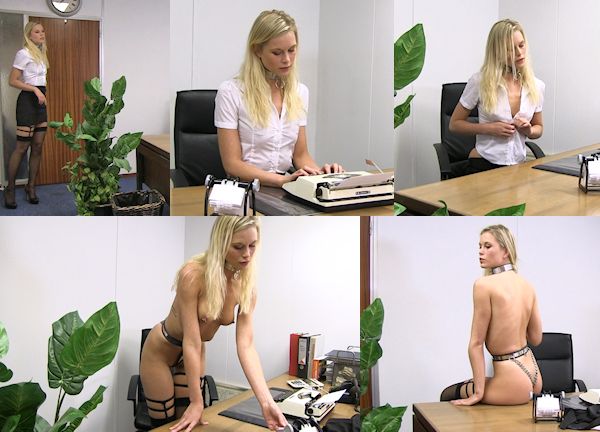 Poor Sophie has to work in the office all day, on an OLD typewrite no less. Her boss made her wear a chastity belt, and she is very distracted by it! In fact, wearing the chastity belt made Sophie want to play with herself, just because she can't. It's strange how girls always want things when they can't have them.
Sophie is getting so distracted, she removes her shirt! This is very familiar! Remember when I hired the Scottish cutie Kerry as my office assistant? She did the same! Why is that? Why do girls take off their clothes when you put them in a chastity belt? Maybe they want to find out if there is a way to open the lock? They get hot? They try to slip their fingers under the belt? Belts are known to make a girl very horny, and Sophie is no exception.
She is so tall, so gorgeous, with her perfect body and face. Sophie is a professional fashion model who is at least 6'2 in heels, and her style is very sophisticated. Expensive stockings, a neat skirt and office blouse, you'd never expect her to be very naughty. But once she removes her clothes, you can see a nipple piercing and a tattoo, and Sophie (in just her collar, belt, and stockings) suddenly is a perfect submissive! So pretty and kinky!
Sophie is local to me, and we always have a very good time. She knows she will be belted in this chain style NeoSteel whenever she comes over, but she loves it! Sophie is available for custom videos, and a few of you were already lucky enough to order one. Let me know if you want an exclusive custom chastity belt video with one of the most gorgeous tall blondes in the world!