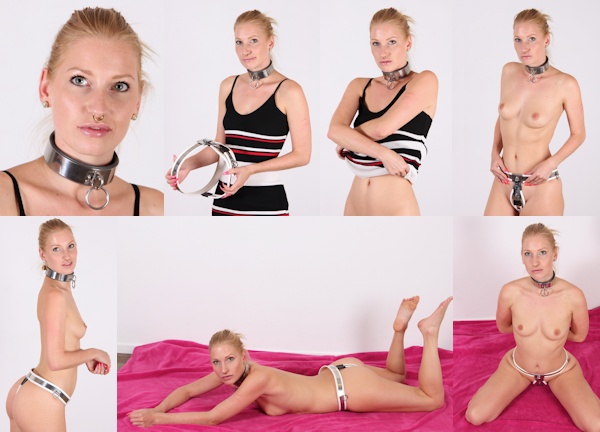 When Davon Kim was sent back to the Philippines, I lost my pet slave girl. A girl I could keep in chastity, with plugs, gags, bondage, collar, cages, and much more! Davon wanted to live as a pet slave in chastity gear (or at least she pretended she wanted it, to be able to stay in Holland).
Most girls that want to do a Chastity Deal here are only over for a short period of time. They are just in it for the money, or they have an owner who loves to see them in chastity. But I missed having my own pet slave girl! A number of candidates have emailed me, but none of them were very serious or couldn't take much time off from their busy personal lives. Until I received an email from tiny real life submissive Arienh, a Dutch girl who lives not too far from me! She is super kinky! Arienh wants to live in chains and metal, she wants to be controlled. She even experimented with her own (cheap) chastity belt at home.
It took her a lot of courage to email me, but she did. I invited her for a Casting of course, and wow is she tiny (and a bit shy). The white My-Steel hip belt was a perfect fit for her. Arienh looks amazing in a belt and collar. And there is another awesome detail about her: she has a permanently installed nose ring! Lots of bondage possibilities there, it is easy to lock a chain to her nose ring and keep her in place. No cage needed! Although she loves cages, so she probably will sleep in one.
Arienh seems like a perfect candidate to be the next (semi)permanent pet slave in chastity. She is still very shy but there are lots of possibilities and her interests and limits are very promising. Let's hope I can officially make her sign a contract to become this website's next chastity pet slave!