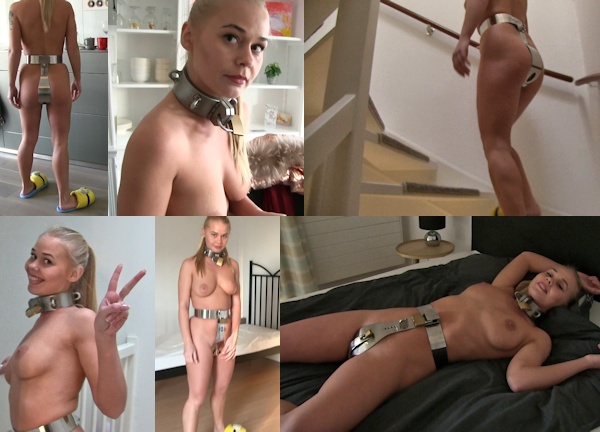 So I took Darina home in her heavy gear and she was getting ready to spend the night in 4.5 kilos of steel. I kept asking her if she was okay, and if it wasn't too heavy, but Darina said it was no problem at all and she was happy. This girl is amazing!
Darina was going through the house at full speed, clearing the dishes away in the kitchen then going up 3 flights of stairs to show us her room. I could barely keep up with her! I had no doubt she was going to make it, Darina is such a positive girl full of energy. It will be a hard task to think of something more challenging for her next time when she comes back.
She ran around like she was not even noticing the extreme collar and heavy belt, opening the curtains (hello neighbours) and checking herself out in the mirror. There was still a bit of a language barrier but I think she clearly understood her Chastity Deal: stay locked in heavy gear until the morning. She would be in this gear for about 18 hours. Not bad at all! Toilet use was only allowed through the vaginal slot, but she had only gone once so far.
It wasn't time to go to bed yet, and Darina surprised me by saying she wanted to have a shower first. In this heavy gear? She seemed very certain. Stay tuned for more footage of Darina's heavy gear challenge, it was an amazing Deal!!