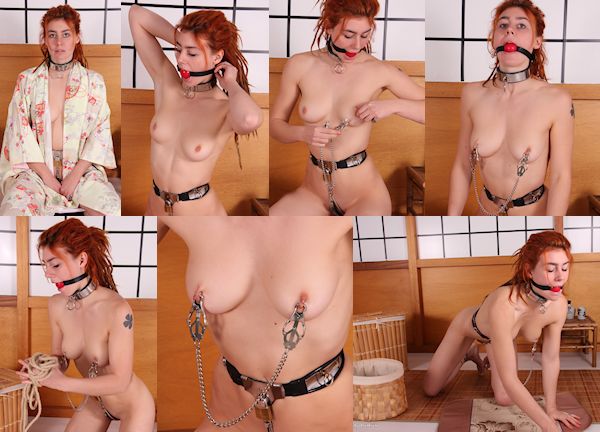 The lovely Muriel visited my studio to be locked in a FancySteel for a while. She just loves bondage and fetish! In fact, she is a very experienced rope bondage model who can do extreme suspensions, and she is also quickly becoming the face of BoundCon, the European fetish convention in Munich.
I was very excited to have this girl in my studio, collared and belted. She was very tired from her journeys, and she slept for a while in her FancySteel. But then it was time to get to work! She is a rope expert, so I thought I could give her the boring task of sorting and coiling all the rope in the Asian room. That Challenge sounded way too easy, so I told her to tightly ballgag herself. She then had to add Japanese clover clamps to her nipples (very pinchy!), and she could only take them off after she finished her tasks.
Muriel really felt those clamps, as she had to move back and forth to get the ropes, and coil them using her arms. She had to bend over a lot, which meant the weight of the chain kept pulling on her nipples all the time. These clamps are very mean, but if you sit still they can be relatively bearable. Unfortunately for Muriel, her tasks required her to move a lot. She did not complain though (well, she was gagged). She loves a Challenge, even though it was a bit painful, she took pride in completing the task.
I love Challenging Muriel, she is one of the prettiest red head bondage girls I have ever met. She's tough and funny! I would love to test her some more, especially in a longer Chastity Deal. So I will definitely get her back to Holland this year for an interesting Deal! I'm sure you'll agree this girl needs to be tested during a contracted belting time with some harder Challenges mixed in to keep it interesting!