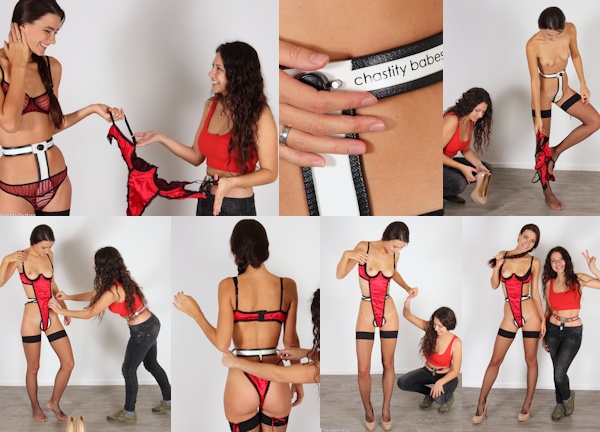 When Lauren Crist was over, Anahí really helped her out a lot. Lauren was complaining so much about her belt's tightness, I had to get my studio assistant to calm her down a bit. Okay, the NoSteel prototype is small. Very small in fact. Tall slender Lauren is one of the few girls that would be able to wear it, and even then it is tight on her waist.
To distract Lauren (who was getting a bit negative), I sent in Anahí to help her try on some different outfits. But Anahí knew I really wanted to find out how Lauren was feeling. And the Chastity Babes talk to girls much more freely than to me. So while Lauren was trying on various clothes, Anahí did a perfect job talking about her own belt, and how she was used to it. She is wearing a tight red MySteel belt, but she can bend over, walk, sit, and even sleep in it. Lauren is not as experienced, and she was amazed by Anahí's attitude and positivity.
I think it really helps to have a female studio assistant to assist some of the girls who have trouble adjusting to their Chastity Deals. Lauren wasn't really staying very long, but I felt she still needed some comforting. And to see two girls in chastity belts, distracted by fashion, lingerie, and high heels, is always a nice sight in my studio. After this video was recorded, Lauren felt a lot better! Anahí is such a sweetheart! I think she deserves a nice Chastity Deal as an opportunity to make some extra cash! Can you think of any nice challenges for her?