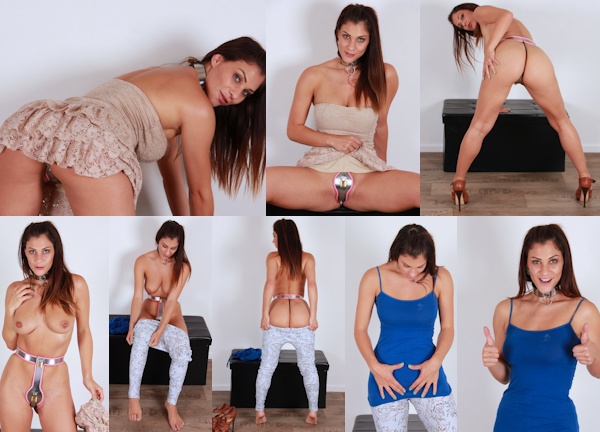 To allow myself to enjoy the perfect fit of Roxy's belt a while longer, I wanted to go outside with her. But Roxy was wearing a dress and she was worried people might see her belt. She first complained about the lock but it was barely visible, but the dress was a bit short and when she would bend over or sit down, the belt could clearly be seen.
She asked me if she could change, and I allowed her, just because I wanted to see her take off the dress and look at that perfect fit once again. It was so amazing, even from the side view, the belt is completely flat against her belly, there are no gaps, it is so tight she can't even get a finger tip in. Like it was made for her! Which is a bit strange because it was made for Donna. Well this belt was assembled from a slightly larger spare waist belt and a wire back that has only been used once (but Donna hated it).
Roxy's amazing body locked in this belt may be my favorite view of the year. She is toned, very strong and fit, yet she is helpless without a simple small key, unable to touch herself and a little limited in her movements. She had some trouble putting her trousers on, and removing her shoes, but she did it. Roxy is tough, so I proposed her a Chastity Deal. She was interested, but she had to fly home already, so there was no time to keep her in the belt any longer. I just told her to take the belt home and do a Home Deal for me. I knew I could get her friend Kacie to hold the key and film it, so I'm curious what we will see soon. More Roxy in this belt is always good!
Meanwhile, enjoy this week's view of this tanned girl in the perfect pink belt and if you have got any suggestions for Roxy's Home Deal, please post them in the comments below! I'm sure Roxy will read them!