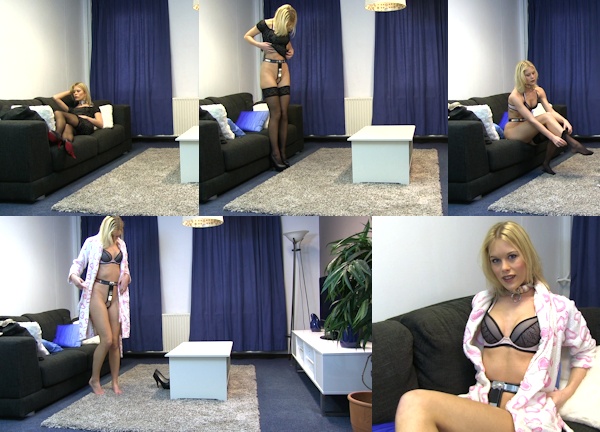 I'm still so happy about locking this girl in a NeoSteel! Sophie is an incredible beauty and a fashion model who you'd never expect to see in a chastity belt! And she is local, which means she can do more Deals in the future and even meet and greets!
But let's not get ahead of ourselves here, it is still a hard challenge for most girls to be belted, and shy Sophie is no different. After the initial excitement and rush of signing the contract, reality is now setting in and Sophie will have to be in this belt for 72 hours if she wants to get her cash prize. Sure, she can stop at any moment, but then she will have been belted for nothing. And she could definitely use the money!
I left her alone for a while, until I felt like checking on her if she needed to go to the toilet. It had only been a few hours, but Sophie had already changed her clothes and made herself comfortable on the couch. She was just playing with her phone ALL the time. Like most chastity babes do. I think it's fair to say that Chastity Deals would be a lot harder without mobile phones. You know what I mean.
Sophie is so cute and soft spoken. I think she is secretly into fetish and bondage things, but she will probably never admit that. She would be the perfect slave girl though if she would choose such a life. Wow, imagine having your own fashion model pet slave. I did once, but only for a few hours unfortunately. I need to get Sophie and Sylvie belted together in the future, they would be a dream team!
For now, Sophie had just started her Deal, and she needed the toilet already. Time for a supervised break then!