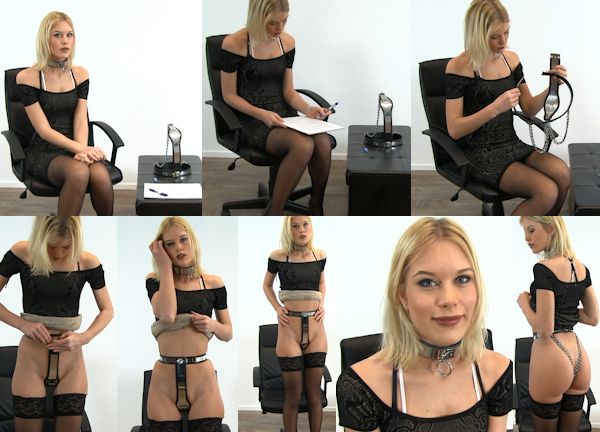 YES! I did it, I got Sophie in a 72 hour Chastity Deal! This gorgeous local fashion model is very shy and a little worried about being on the internet like this, but she signed! Great news!
Remember her cute Casting? She was so perfect for the new chain style NeoSteel! She is very tall and slim, and quite possibly the most elegant of all chastity babes. It took some time to convince her, but I really wanted to have her around for 72 hours, locked in a belt and collar. My own fashion model chastity babe (180cm, 5'11", and even taller in her heels)!! Always in perfect makeup, stockings, the best clothes, I just love her style and perfection!
Sophie signed (after some hesitation) a 72 hour contract in belt and collar. Supervised toilet breaks allowed. No other breaks. She would be free to do what she wanted, including shooting for MetalBondage.com for example. She is in the studio anyway, so why not!
Sophie is already out of the belt as I write this. The Deal was last week. But did she make it? Watch the video as she speaks (soft and shy) about what she just did to herself, like she can not believe her desire drove her to this website to lock herself in a chastity belt. She is not as tough as other models, but she is gorgeous and so cute, I really wanted to help her fulfill this dream and I wanted to do anything I could to let her achieve the 72 hour goal!