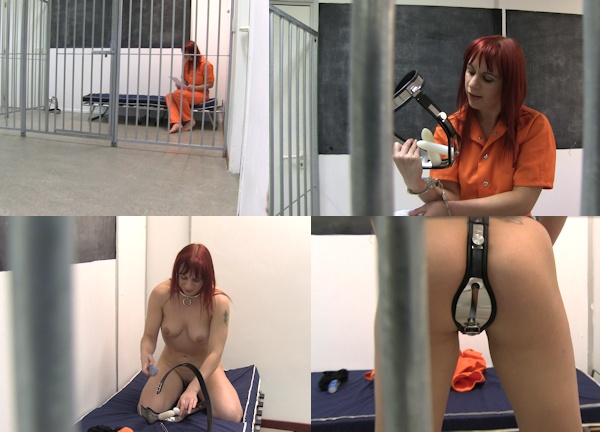 Remember Lola? She loves plugs so much, she did a double plug Casting some time ago! There was a NeoSteel with two big nylon plugs that fit her perfectly, but she was locked in this belt for a very short time. Wearing a double plug belt is very hard. It fills a girl right up, and makes her posture very rigid, to the point where some of them can't even move. Lola is a dancer, and very flexible, and I noticed she was still wiggling and had no problem walking when she did her Casting.
She would be perfect for a plugged Chastity Deal, so I decided to have a little fun blackmailing her. I locked her in a prison cell, orange jumpsuit and handcuffs included, and snuck the double plugged belt and a collar in there when she was sleeping. A Chastity Deal contract and a pen too. I was curious to see what she would do. Lola did not have any place to go, so I was sure she would see the belt and read the contract when she woke up.
I decided to go for a 72-hour contract. First of all, she is from the UK and she had to get back after a few days, and furthermore: a double plugged Deal is tough! We don't have many of those on the site! Actually, I probably should have gone for 24 hours, but I was too excited.
When I returned, Lola was awake and asking lots of questions. I told her it would be a great Deal: she would get out of prison, be allowed to take off her handcuffs, and even get money after 72 hours! Lola wasn't so sure. That's a long time to walk around with two big plugs inside of you, even when there's toilet and cleaning breaks (obviously). It was a lot to ask, and I was not sure she would go for it, but if anyone would try this, it would be our fun loving redhead!
And yes, there's good news: Lola signed the contract! She was collared, and she put on the belt using a lot of lube. It was a struggle, the belt is very tight and the angle of the plugs was hard to get right, but once she was in it all looked so awesome. I released her from her prison cell and she was free to go! Well, not totally free, but you know what I mean. Don't miss this unique update, it's a double plugged Chastity Deal!