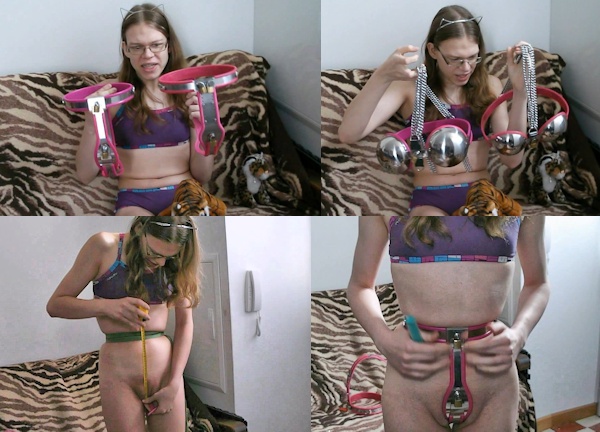 Probably the biggest fan of this website, WendyWarrior from France, has always promised in her comments to appear on this website when she felt the time was right. I met her at BoundCon for the first time in real life, and she made quite an impression. She is really tightly belted in her My-Steel gear, and she wears the custom (triple weight) slave collar I had made for Donna almost all the time. WendyWarrior purchased this collar after Donna offered it up for sale when she finished her most recent Deal.
Before she acquired her My-Steel gear (pink of course), WendyWarrior was belted in Chinese copies of this gear. This can be recommended for anyone who is not sure about chastity yet. It is a cheap way to try it and the belts and bras are quite good for the price. Of course, nothing beats a custom made belt, and if you are thinking about 24/7 chastity, you should always get a custom made high end belt.
I am getting so many questions about this, and also about measuring, cleaning, and other practical issues, I asked WendyWarrior to do a video in which she explains everything about getting a new belt and bra, measuring, locking, maintenance, and more! This will answer a lot of questions in my inbox and it is very educational. Wendy really knows what issues you should pay attention to when ordering a belt!
This is part 1 of her explanation, the second part will follow soon! Enjoy, and if you have any questions: just post them in the comments, I am sure WendyWarrior will answer them in no time!