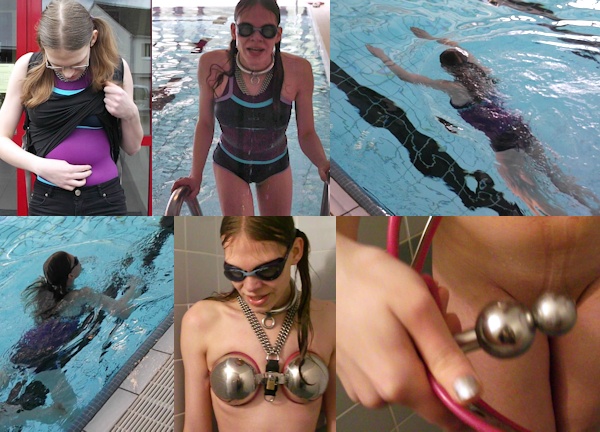 As was proven many times before on this website, it is possible to get a good workout in chastity, even with a vaginal plug. Swimming in chastity was also tested, but never before with a plug. Our dear WendyWarrior, probably the biggest fan of this website, decided to film her swim in her My-Steel chastity belt, chastity bra, and heavy collar-plug to try this.
"Everyone believes my armor is too heavy to swim. Yes, my armor is heavy (3 kg), and the weight makes the swim harder. But not enough to drown. Besides, I have never seen anyone swimming plugged on this website, so I wanted to do this myself. I already swam with this belt, this collar and my old bra, but the My-Steel bra I was wearing is really heavy and tight, and the plug aroused me a lot. I was out of breath after 4 lengths. But if you want me to do this again, I will."
The video was shot without breaks to show she actually swam with her plug inside her. She was in a public swimming pool in France, shot by her best friend (who is her keyholder too, by the way), so a swimsuit hiding the belt and bra was compulsory.
The video was previously hosted on Youtube and it got deleted (of course), so WendyWarrior shot it again in HD and sent it to me to host it as a member bonus. Wendy also let us know there were no issues with water and rust. It is all stainless steel and she cleaned the belt and herself very carefully. It's a great day: girls do not have any excuse now to take off their chastity belts when they want to go for a swim! 24/7 is always possible, and this website will continue to prove that!