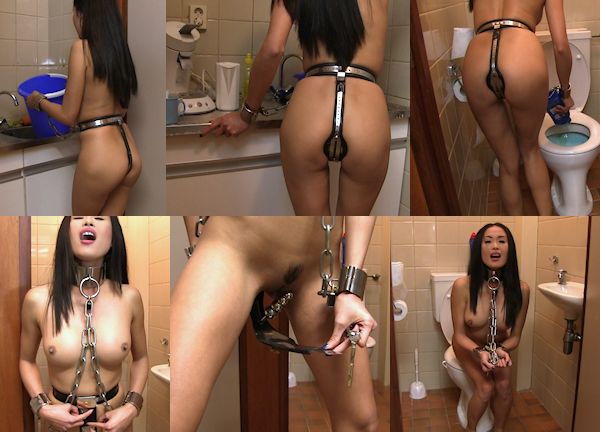 Davon will have to clean the kitchens and toilets in my studio (yes, my studio really has 3 small kitchens and 4 toilets, it's a long story). But all this moving around causes a problem for the tiny plugged Philippine girl: her labia are quite big and sometimes they protrude through the slotted secondary shield. Then, when she bends over and gets up again, the plug slides and catches her labia, pinching her.
Davon's English is not good enough to explain that, she simply says 'pain' when something is hurting her. I like her simplicity. 'It is pain!', she tries to explain, moaning and sighing. But when I inquire a little further, it turns out she simply does not like cleaning toilets. Of course, she had a luxury job at a receptionist desk before, so it is quite a shock to be shackled in very heavy metal, locked in a chastity belt with a large plug inside, cleaning kitchens and toilets. But someone has to do it!
Then, she suddenly needed to go to the toilet herself. I really want to train her to be plugged 24/7, but we are not there yet. All this moaning and complaining made me a little soft, so I decided she could take off the belt for a few seconds to use the toilet. I need to order a custom belt for her anyway before we can get to 24/7 front plugging (yes, girls can pee plugged). But even then, she will need cleaning breaks (even more because plugged Deals need more breaks for hygienic safety), and girls like to use the toilet during their cleaning breaks. It's simply a lot less messy.
'Can you close the door?', Davon begs, still in shackles. Of course not. The door stays open and toilet breaks are supervised. Girls are clever (especially Davon) and they can not be allowed to touch themselves. That's the whole point of any Chastity Deal!