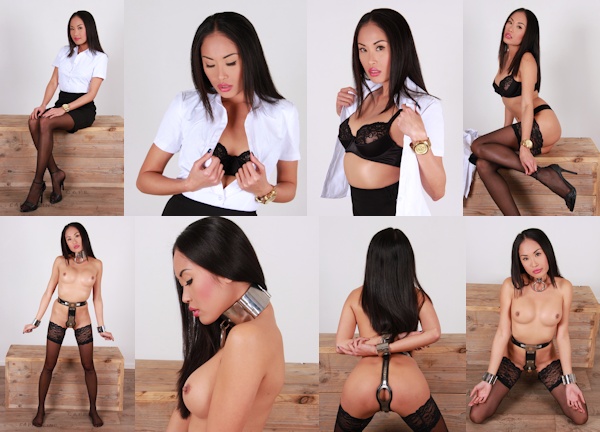 Remember Davon Kim? This Philippine girl really made a career for herself in the Netherlands! She is now a receptionist at a 5 star hotel in Amsterdam! Unfortunately, disaster struck her… she is a very hard working girl who loves to help and serve people, but she forgot to send in some critical documents (because she did not understand them fully), and after a few months of legal battles, she lost her work permit!
Davon is not allowed to work in the Netherlands anymore, she can not find a place to live (because she does not have proof of income) and she will be forced to go back to the Philippines if she can not find any other options. I felt so sorry for her, she is a very sweet girl! A strange solution occurred to me: what if she would sign herself to be a permanent chastity slave girl, in exchange for food and a place to stay? Just like the usual Chastity Deal, but in this case, when she gives up, she will have to go back to the Philippines. The highest stakes ever in a chastity contract I think!
Davon eagerly accepted, she is out of options, and she knows it. I made sure the contract included some extras because she couldn't say no anyway. She will ALWAYS be in a chastity belt. Plugs can be added when I want. Davon will be in heavy metal wrist cuffs and a super heavy collar at all times, to remind her of her position. And last but not least: she will not lounge around like other Chastity Babes, she will have to work! Cleaning especially, but cooking, bringing drinks, and much more. She will work in the studio mainly, taking care of guests, and she will be available for custom shoots for fans, member requests, and even meet and greets where she will serve YOU.
Watch this week's update where Davon transforms into a chastity slave girl. She is told to take off her receptionist clothes for the last time, and put them in a box. She is then locked in a chastity belt, heavy manacles so I can easily attach her to something whenever I want, and a super heavy collar which will take a long time to get used to (probably no sleep for the first few nights). Amazingly, Davon seems to already naturally assume a submissive position with her arms folded behind her back, without me even telling her! She is so beautiful and tiny, I had to make the belt extremely small, and find very small wrist cuffs and a collar. But she looks amazing!
If any of this feels opportunist and even racist to you, feel free to discuss below, because I know such discussions will arise. I have always wanted an Asian chastity slave girl, and I am not afraid to admit that. She is free to leave at any time. I am sure there are a lot of men who would love to be in my position and a lot of girls who imagine themselves in Davon's position. Nothing wrong with that. And I'm nice, I won't be cruel, and there are no sexual services involved. A win for everyone!