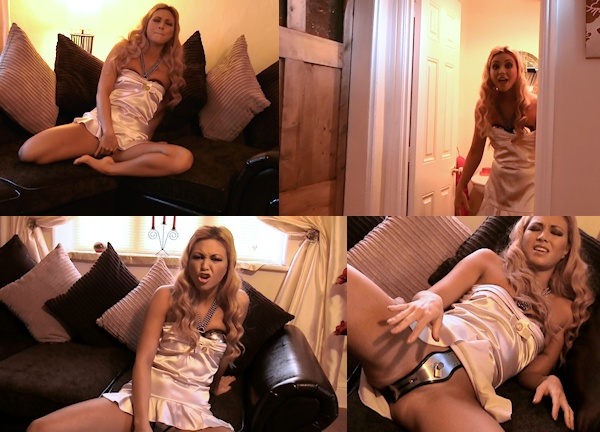 Today you will find out if you were right, voting in this poll! Later in the evening, Natalia called me. She was angry, and told me where I could stuff my belt, bra, and cameras (the sun doesn't shine there). She needed to go to the toilet very bad, and she told me to come over right away to unlock the belt and take out the plug!
When I arrived about 10 minutes later, she had already calmed down a bit. I managed to convince her to give it a try: just go to the toilet and try to pee. She did a 5 day full chastity challenge before, without any breaks, so she knows how to use the toilet in a chastity belt, and how to clean herself! The only difference is this 4-ball stainless steel plug inserted into her vagina. I was very curious to find out if it is possible to urinate like this (I guess you are curious too). How did I convince her? Easy: unlocking = no money. Never fails.
And what do you know! Natalia managed to use the toilet without any major problems. She even muttered that she was disappointed about that, since now she did not have ANY excuses left to NOT complete the 48 hour Plug Challenge! Cleaning was a little harder though, but it's only 48 hours and she will take lots of showers and even baths!
This video is a must see if you love Natalia's temper and personality! She goes from frustrated to excited to contemplating in seconds! One of the highlights is where the camera caught her sneezing, which involuntarily caused a little pinch followed by a very arousing sensation! Another gem is her comment 'constantly being penetrated isn't good!', while her body language tells us something else. Watch the video clip, you will love it!