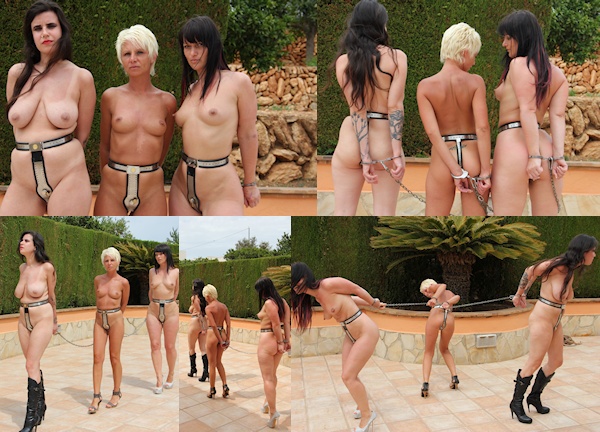 Meanwhile, in Spain, the three German girls were still belted and doing workshops with a lot of photographers. After the relaxation and the bondage shoot, they were handcuffed behind their backs and hanging around the big villa, waiting for their next assignment.
Since they seemed a little tired and bored, I decided to take them out for a walk! They were still naked except for their belts and heels, but it was very hot outside, so I thought they didn't need any clothes. I found a length of chain and made myself a little chastity chain gang. Off we went: Raven C in front with her incredible bondage boobs, followed by feisty Lena King who didn't really want to come along, and Yvette Costeau bringing up the rear. Yvette was so tired! She really regretted wearing her ultra high heels, because this walk was almost too much for her. She stumbled a few times, then halted until the other girls pulled her along. It's amazing what girls will do when you hold the key to their belts! The magic phrase seems to be 'if you do this I might let you out soon'. Remember that. And try it at home.
A little tug of war finally ensued, because Yvette didn't want to walk any further. This was so much fun! It inspired me to create my own slave labor camp villa next year in Spain, with some of my own models, and invite a few of you to come along and take pictures. Of course, all girls will be in chastity for the entire week (or 2 weeks?). If you are interested (either as a photographer or a model), just contact me or comment below!