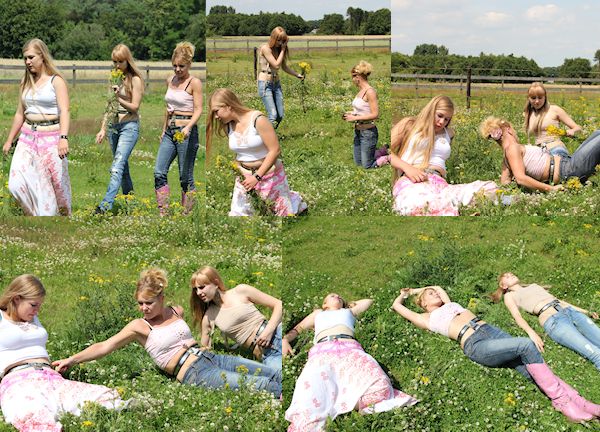 THIS UPDATE IS PART OF THE BELTED FOR CHARITY EVENT
Billy Jean, Natasja, and Laura are finally at the end of their challenge. The day is over, and the three girls decide to get away from Wendy (who convinced them to be belted) to talk about their day. Strolling through a green meadow, picking flowers, it is very obvious there is a kind of tension between them and their 'boss' Wendy, who runs the ranch. Clearly they would never have gone through this if she hadn't told them to join in.
Billy Jean (Wendy's sister) is especially uncomfortable in the belt. Natasja and Laura seem to be fine, even after 7 hours of being belted. A real surprise, because we have seen reports of people having troubles even after two hours, and those people are usually into this fetish! For 4 local girls to be belted for a day, it is a monumental achievement.
The girls discuss the belts for the last time, feeling the tight waistbands and the padlocks. Laura even says she has become used to wearing it, but with her slim figure she is probably experiencing the least discomfort. They all wanted out very badly at the end of the day, and we hope they will forgive Wendy for taking initiative to raise some more money for their cause.
Of course, we are always looking for more sponsoring projects. Are you in a sports team or charity that could use some funds? Maybe a female gymnastics or hockey team? A beauty pageant that needs sponsoring? We can help! Just contact us and we will make you a Chastity Deal!